May 31, 2020
Amplify Latinx announces Cadencia Latina in collaboration with Agora Cultural Architects, Cojuelos' Productions, Hyde Square Task Force and Latin Quarter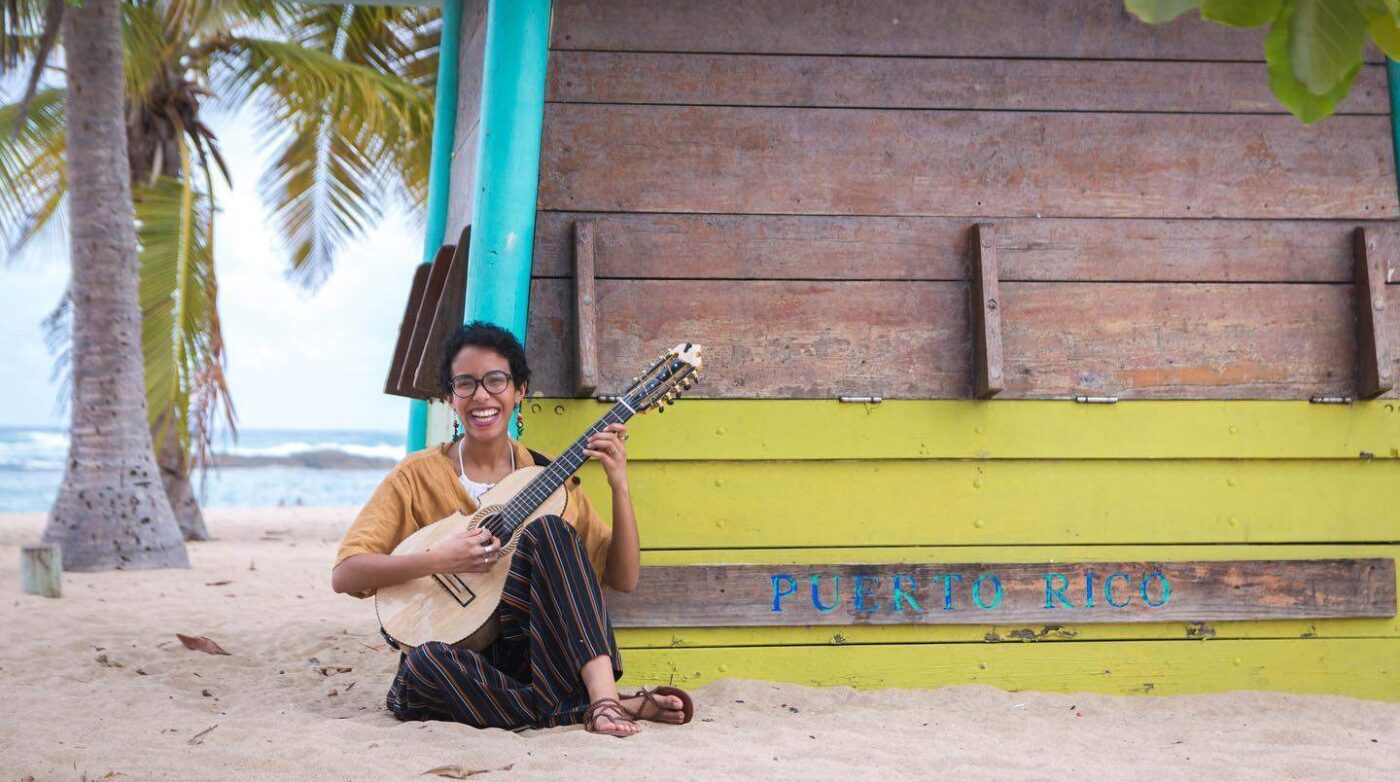 Photo Credit – Fabiola Mendez Music
Boston, May 26, 2020 — Leading Latinx organizations based in Massachusetts launched Cadencia Latina today, a series of virtual events that support Boston performers with Latin American roots and amplifies their footprint in the virtual stage. With the collaboration of Amplify
Latinx, Hyde Square Task Force, and Boston's Latin Quarter, Cojuelos' Productions and Ágora Cultural Architects, 11 performers of music, dance, and poetry will showcase their talents and entertainment and inspiration.
The events will be live-streamed on Facebook every Sunday and Thursday at 7pm, and will kick off with the recognized Puerto Rican cuatro player and composer Fabiola Méndez. Fabiola opened doors for the national instrument of Puerto Rico by becoming the first cuatro player to
graduate from Berklee College of Music, and has since built a name for herself and her music in the Boston community. Cadencia Latina will also feature artists from México, Dominican Republic, Cuba, Puerto Rico, Colombia, Costa Rica and Venezuela, among others.
The project hopes to also remind the Latino community, a historically undercounted group, of the importance of filling out the Census and defending its rights and political voice.
"We've been presenting Latin American arts and culture in Boston for over a year; we've seen the difference it makes in the communities and we miss being able to do that safely in the times of COVID-19. That's why we're so excited to produce this series and reconnect with our
audience," said Beba Rivera, co-founder of Ágora.
"Hyde Square Task Force is thrilled to partner with such powerful artists and organizations to bring Cadencia Latina to the community. As the managing partner of Boston's Latin Quarter cultural district, we hope that coming together virtually through an amazing lineup of Latinx artists lifts people up during this difficult time," shared Hyde Square Task Force Executive Director Celina Miranda.
Amplify Latinx Executive Director, Rosario Ubiera-Minaya, also looks forward to these events and their capacity to ramp up civic engagement:
"Our Latinx artists and creatives bring a lens of true representation of the sentiment of our culture and communities. Through their talent and
vibrancy of their work, they are great to voice messages that will resonate with our community. We are excited about this collaboration that not only thoughtfully engages our artistic community, but also supports Amplify Latinx's goals for civic engagement and representation."
Here's the full list of events, which will be streamed on the artist and all organizations' Facebook Pages:
● May 31, 7pm, Fabiola Méndez and the cuatro
● June 4, 7pm, Manolo Mairena
● June 7, 7pm, Angel Subero and the trombon
● June 11, 7pm, Yara Liceaga's poetry
● June 14, 7pm, Bajucol's Colombian Folk-Ballet
● June 18, 7pm, Modern Dance with Marsha Parrilla
● June 21, 7pm, Salsa, bachata and merengue by Eli Pabón
● June 25, 7pm, Monologue by Paloma Valenzuela
● June 28, 3pm, Ana Masacote's Dance Class
● July 2, 7pm, Zahili Gonzalez and her piano
● July 5, 7pm, Andrea Cruz's music
To keep these events on your calendars and select where to stream them, visit any of the participating partner's pages: www.facebook.com/culturalagora
www.facebook.com/amplifylatinx
www.facebook.com/cojuelosproductions www.facebook.com/bostonlatinquarter.
---
About the organizations:
Amplify Latinx is a non-partisan, collaborative movement whose mission is to build Latinx economic and political power by significantly increasing Latinx civic engagement and representation in leadership positions across sectors. Hyde Square Task Force's mission is to amplify the power, creativity, and voices of youth, connecting them to Afro-Latin culture and heritage so they can create a diverse, vibrant Latin Quarter and build a just, equitable Boston. HSTF is the managing partner of Boston's Latin Quarter, which is a culturally, racially, and economically diverse cultural district located in Boston's Jamaica Plain neighborhood that aims to preserve and uplift its rich Afro-Latin history and culture.
Cojuelos' Productions is a Consulting Agency that celebrates all artistic expression through creative and innovative, diverse, and culturally oriented programming and curated experiences. Ágora Cultural Architects is a boutique production and consulting firm committed to Latinx artsand communication.
Creative North Shore is produced, curated and managed by Creative Collective, we are trying really hard to make sure that we don't have to put a paywall in place and could really use your support to keep afloat and make us able to keep a few of our staff employed and providing you with content and information. Please consider supporting us with any amount.