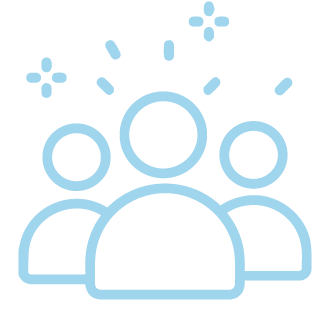 Creative Collective
is not your traditional business program. The Collective is a modern program that understands business needs in the "new normal" that have come out of the pandemic. B2B and consumer-facing Initiatives make us unique and effective! We understand how hard it is to run a small business and bring real-world knowledge and lived experiences to our program.
Small business support and Marketing initiatives
We provide opportunities, connections, dynamic marketing initiatives, collaborations, resources, and support for small businesses and the creative workforce.
We provide opportunities for our Business Members to collaborate in innovative projects and help close the economic and perceived gap between the creative and traditional industries.
We truly believe in the intersection of small business, the Downtown economy, and the creative workforce and advocate for small business owners all across the North Shore. We hold seats In economic development groups and arts and culture organizations.
Our Business Members have access to private resource groups, Marketing Tips and Tricks, and the reach of our arts and culture consumer outreach. Our 20,000+ following and membership of over 225 small businesses put a sizeable and invested audience within reach.
"Creative Collective has been an essential ally to FunDead Publications. In 2016, FunDead was a brand-new, budding Salem publishing company with a very small, but loyal following. Creative Collective was key in shining a light on us to their many local, and not-so-local, followers. Thanks to Creative Collective, we added hundreds of new followers to our own social media and saw exponential growth in our writing submission numbers."
"The Creative Collective has been a great way to meet other business owners on the North Shore. The Collective staff is adept at facilitating networking events that feel authentic and not like traditional "networking" events I've been to. I also enjoy that the mission leans toward the creative and artistic communities. It's been perfect for my organization."
"Creative Collective has been a guiding light through the process of starting our business here on the Northshore. Yes, our membership has paid for itself several times over through sales at events they've organized, but the real value here comes indirectly. John and the crew have connected us with many critical relationships that have deepened our connection to the community and help propelled us forward in ways that I'm not sure we would have achieved otherwise. The level of care, attention, and friendship we have gained here is unique, and unlike any other collective we have seen."
Annual social and online reach. Growing by 20% annually.
We are currently in 8 different communities and growing.
Women business owners in the collective!
To date Event Attendees for collective produced events.
Benefits of Being a Member
Technical assistance, small business support, and consultations.

Enhanced Directory listing on Creative Collective and access to our virtual member's lounge.

Event listings on the Creative Collective website and Facebook page can be conveniently inputted by our team or you can control your own information in the member's lounge.

Event listings on weekly newsletter reaching over 3500 active consumers.

Meet the member introductory feature on our websites and social media channels and shared with our 3500+ newsletter subscribers.

Free Monthly meetups and team-building engagements.

Robust B2B Referral program

Exclusive discounts and promotions throughout the course of the year from fellow members.

Members only access to workshops, webinars, and B2B discounts.

Social media marketing for your business through our social channels on a monthly basis. (You will receive a form to fill out monthly and can always email the information) Full-time marketing manager to assist with best practices including monthly marketing tips and tricks emails.

Featured listings in all digital marketplaces that we produce (Including Haunted Happenings Marketplace) Members get priority in all markets that Creative Collective manages.

First right of refusal on opportunities that arise from project-based consultancy work the Collective does throughout Essex County these range from public events, to workshops to paid engagements.
Please fill out the below form and Arielle will get back to you ASAP! If you prefer you can give us a ring at (978) 224-8856
For information on our corporate partner program which includes targeted "happenings" sponsorships, dedicated regular emails, and greater access to our business and community program please contact
john@creativecollectivema.com
Facebook
(Avg. Monthly reach 60K)
Following across Creative Collective, Creative North Shore and Creative Collective Merchant Marketplace accounts.
Instagram
(Avg. monthly reach 40K)
In addition, we are always keeping up with the latest trends and platforms to make sure our members get the best placement to reach consumers and other business members)